Flexibele gevlochten slang buigzame wastafelslang
Maat: F1 / 2" X M1 / 2"
Inner Slang: EPDM / PVC volgens aanvraag
Draad: Allum. 0,16 mm of ss zoals per aanvraag
Nut & Insert: Messing (CW614N, CuZn39Pb3, CW617N, CuZn40Pb2, DZR, op aanvraag) & Plastic
Wasmachine: EPDM, NBR
Ferrule: SS
Pakket: 10 stuks / PVC zak, meerdere stukken / Master Carton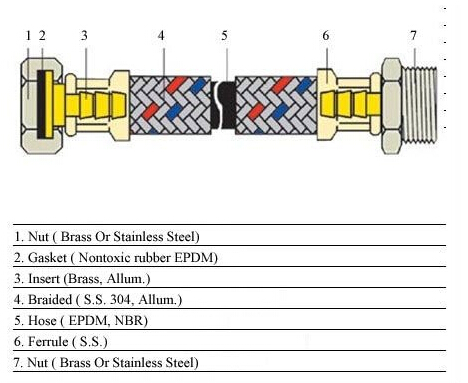 1) Snelle Materiaal Levering. Heb je eigen koperen bar Factory of Group.
2) Elke klep zorgt voor een aflevering van zes stappen in een QC-proces.
Materiële controle, Machining Kwaliteitscontrole, Inkomende Materiaalinspectie, Montage Line Quality Control, Lekkage Testing, Laatste Inspectie Voordat Levering.
3) 100% lektest.
4) Strikt en perfect beheer in de productie.
5) Gegarandeerde kwaliteit in concurrerende prijs.
6) On-time levering.
7) Volledige R & D faciliteiten en Uitstekend team.
8) Jaarlijkse O & O-projecten bereiken het aantal van 100.
9) Heb rijke ervaring en sterk vermogen om nieuwe producten te ontwikkelen.
Product Categorie : Flexibele slang